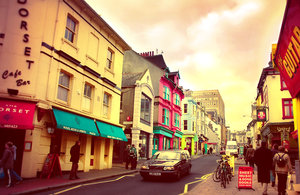 In the Dark Ages, Before there was
Paintings were just a little... off.
Planes and Angles collided, Distance was perplexing and
Size was commensurate with Ego...
for example:
(who is the most Important Person in this picture?)
(HINT: The one who is almost as big as the Cathedral!)
now, then...
(possibly because derisive laughter is so debilitating...)
Renaissance Painters
began to scorn such presumptuously inaccurate visual inventions!
for them the problem was-
How to represent Someone Important
without making him the size of a house.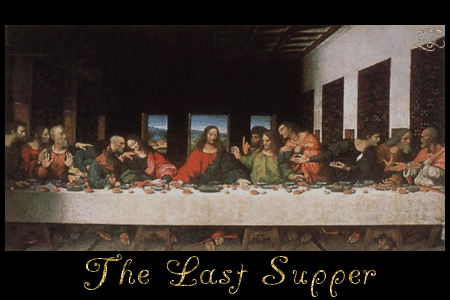 It has been boldly proposed that
in essence, The Renaissance was about (a new)
Perspective
and this is why DaVinci's iconic mural
has been proclaimed to be the definitive Painting of the Renaissance.
Here, the lines of the ceiling and walls direct the eye to a single point.
The head of the Most Important Person
is unquestionably at the focal point of the painting
without having to use the prop of Exaggerating his Size!
May Balance, Symmetry and Proportion prevail!
The Mural is located in the refectory, appropriately,
(a refectory is a dining hall, btw)
of the Convent of Santa Maria delle Grazie in Milan, Italy
In fact, the lines of the room itself
seem to travel into the vanishing point of the painting!
Of course, since 1495
Humanity's "taste in art" has changed somewhat dramatically...
nevertheless,
is Still Iconic!
Not only has it been studied, scrutinized and assigned legendary status worldwide
for it's mystical connection to the Holy Grail, but it's also
one of the Most Parodied Paintings in History!

Imag
And even the Texas Renaissance Festival had it's

Image by
Yes, Da Vinci's Painting of the Last Supper was Performed onstage!
Interactive Performance Art and Painting by Renaissance Man, Dave Sheppard
from 1989 through the 90's.

Thanks goes out to:
a Free Online Photo Editor
and

Cool Text: Free Graphics Generator
Back to Home Page