The Dollmaker draws Inspiration from
Arbors, Archways, and Trellises

Flowery arches and Grape-viney GateWays
are all that stand between
a curious doll and the irresistible Unknown!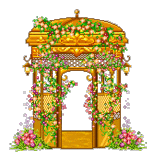 Dolls sense the magic in a Threshold...
Adventurous Dolls Challenged by Decorated Arbors
We know that Dolls cannot resist crossing a THRESHOLD...
Especially when that Threshold opens up into Magical Provinces populated by
laws-of-physics-bending fantastical and often dangerous characters
who mean Trouble with a Capitol T, cannot be stopped or damaged,
and would eventually cause the Jolly Adventure to become fraught with every
imaginable conflict, but the Adventurous Dolls can always escape because:
(hee hee) The Supernatural Troublemakers cannot follow
when Dolls come back across a Lovingly Decorated Threshold!
Transform any Mundane Environment into a Magical Portal Location!
Wee Arbors

so...
Some Dolls Need Arbors...
Some Dolls Need Shrines...
Some Dolls Need Stages....
And Really...
Some Dolls just need Thrones.
the Luxurious BeadHead Dolls
Love to sit on Thrones and let their hair cascade gloriously around them
in undulating waves of Colorful Yarn
after a hard day at work decorating someone's outfit.