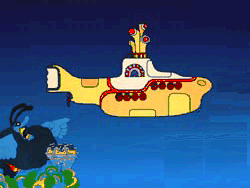 Ah! The Human Imagination.
What Times we live in! What Mass Fantasies we have enjoyed together!
Today, the Dollmaker recognizes and celebrates:
The Incredible Artwork of
who conceived the Landscapes and Characters for the animated film:
a Monument to the kaleidoscopic Carnival of Human Sensibility.....
Every sentient Soul in the Spectrum blooming Bright and Beautiful...
...actually... not quite every sentient soul...
...picture yourself in a boat on a river with tangerine trees and marmalade skies...
Edelmann really did create some terrific villains. (seriously Toothy)
Now Then...
Although it may come as a shock to Some... (like the Dollmaker...)
(who was always quite enchanted with the "Leaping Man" Characters of Peter Max...)
yet the hard truth is:
Peter Max
was a contemporary whose psychedelic style was similar... but
it was not Peter Max who created the Artwork for Yellow Submarine!
(see Peter Max illustrations below:)
no- no- all the while, it was actually
Who created the comically stylized caricatures of the four Beatles..
..and the music-hating
Blue Meanies,

Admiral Fred, the Apple Bonkers, Jeremy Boob, the Snapping Turks,

Vacuum-snouted monsters who slurped up the background scenery,

and, best of all

the Dreadful Flying GLOVE!

Heinz Edelmann

was a German illustrator
and designer

who did not do drugs.

Really. Not at all.

He was a low-profile, mild-mannered, really straight,

yet intuitively very
Visionary guy. a jazz fan.

"not a Flower Power Person"

(20 June 1934 – 21 July 2009)

He is most famous for his art direction and character designs

for the 1968 animated film

Yellow Submarine.

An immensely talented individual, Edelmann's career spanned four decades, and utilized many styles.

The playful and gloriously vividly colored work with The Beatles

was his most famous work.

http://www.sci-fi-o-rama.com/2013/04/07/electrical-banana-masters-of-psychedelic-art/
"It's all in the Mind, Y'Know."
-George Harrison
There never was a complete script, and much of it was apparently written on the fly –
one of the reasons the movie has such a stream-of-consciousness, dream-like appeal....

(Nevertheless, any "Mystical Symbolism" found in the film is supposedly unintentional-
as the Beatles had little to do with the creating of the film and
Edelmann himself was not inclined toward esoteric or occult context... )
(ha. right.)
so... showcasing
who deserves credit for the achievement
of creating a Classic animated film in the 1960's
which was not Walt Disney, Hanna Barbera, or Looney Tunes (or Peter Max)
ok now. just sayin.
http://www.yellowsubmarine.com/#
(Official Yellow Submarine Site)
Life on the Path of Least Resistance is delicious.
Leap into Life!
Spring is a Promise that will be kept.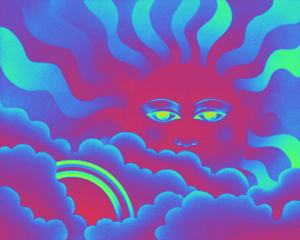 > The Other Side

The story of
Waldo the Wonder Rat

The story of
Vasilisa the Brave

The Story of


Lady Nevermind

NNobody else knows your reason for being. You do. Your bliss guides you to it. When you follow your bliss, when you follow your path to joy, your conversation is of joy, your feelings are of joy — you're right on the path of that which you intended when you came forth into this physical body.

-Abraham

"like music drifting through the air-
invisible but everywhere"

-Jack Skellington





512-332-6680 cell phone


Smithville, TX 78957

and

In October and November

Check out the

Wee Peeple Doll Shoppe

at the

Shoppe #145

Milton Glaser's famous Dylan Poster.

The Story of the
Three Dresses

Bev Taylor
Woodworker Extraordinaire

Thanks goes out to:
and

Cool Text: Free Graphics Generator
and
Web Counter
Back to Home Page
02/17